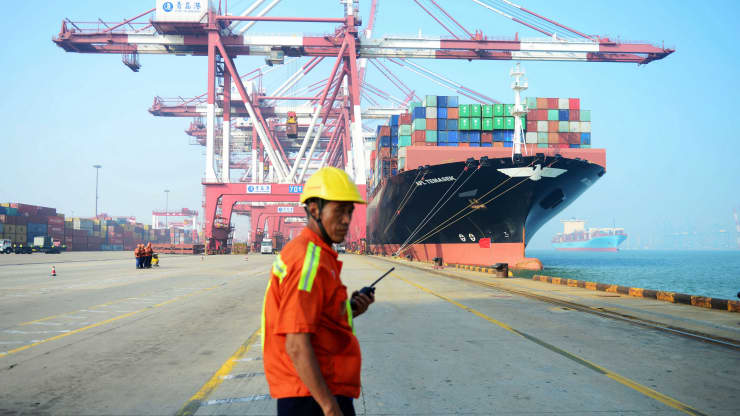 Ikea's Singapore operations called it a "global transport crisis" in a mid-January Facebook post: "The surge in demand worldwide for logistical services at this time has resulted in a global shortage of shipping containers, congested seaports, capacity constraints on vessels, and even lockdown in certain markets, amongst other challenges." The furniture giant estimated that about 850 of its 8,500 products sold in Singapore are affected by shipment delays, which Ikea said affects availability and planned promotions.

"The reason for this is the Chinese are being so aggressive about trying to get empty containers back … that it's hard to get a container for US exporters," he wrote in an email to CNBC, adding that 3 out of 4 containers from the U.S. to Asia are "going back empty." In fact, the shortage in Asia has also led to a similar crisis in many European countries, such as Germany, Austria and Hungary, as shipping carriers redirect containers to the East as quickly as possible, said Woitzik.

Making matters worse, orders for new containers were largely canceled during the first half of last year as most of the world went into lockdown, according to Alan Ng, PWC's mainland China and Hong Kong transportation and logistics leader.

In December, spot freight rates were 264% higher for the Asia to North Europe route, compared with a year ago, according to Mirko Woitzik, risk intelligence solutions manager at supply chain risk firm Resilience360.

"The sudden recovery in trade volume has seen virtually all of the major shipping lines needing to add significant container capacity to address the container shortage issue." Limited alternative The shortage is further exacerbated by limited air freight capacity.

SINGAPORE — A critical shortage of containers is driving up shipping costs and delays for goods purchased from China.

Compared with last March's low prices, freight rates from China to the U.S. and Europe have surged 300%, Mark Yeager, chief executive officer of Redwood Logistics, told CNBC.

"So what's happening is what was already a trade surplus in China has turned dramatically more severe and the reality is, there's three containers going out for every container that's coming in," he said.

Industry watchers said desperate companies wait weeks for containers and pay premium rates to get them, causing shipping costs to skyrocket.

He pointed to a report by the Shanghai International Shipping Research Centre released in the fourth quarter last year, which said that the shortage issue is likely to last for another three months or more.

Chinese tech giant Alibaba's logistic arm Cainiao launched a container booking service last week, citing the global shortage.

"The lack of options, combined with this crazy amount of demand, has produced this crisis." The container crisis affects all companies that need to ship goods.

But even the race to build more containers could be hobbled by delays, according to Yeager.
RESOURCE: cnbc.com