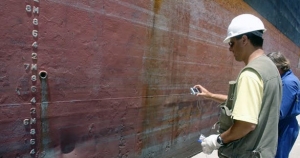 To ensure freight rate profitability, a proper Draft Survey can save substantial costs for the interested party and avoid claims which inevitably result from quantity disputes.
We at Panama Ship Service conduct Draft Surveys as and when required by the client at both sides of the Panama Canal. Serving the Port of Balboa in Panama City and Port of Cristobal in Colon.
Draft survey companies play an important role to determine the amount of cargo loaded or discharged for the benefit of all the interested parties. A well-conducted draft survey of a large vessel should achieve accuracy to within 0.5 %.
A formal and structured process enhances the accountability and professionalism of Panama Ship Service draft survey operations, and also raises the standards of surveying practices in tandem with the increasing demands of the shipping business.
Panama Ship Service undertakes draft survey and Inspections in accordance with international Codes, Rules or customer specifications. Our procedures introduce the required scope of survey & inspection accordingly.
Panama Ship Service, Draft Surveys are carried out on behalf of the ship owners, charterers, shippers, receivers, cargo owners and third parties in connection with the loading and discharging operations to determine the actual weight of the cargo aboard the vessel.
Panama Ship Service performs the draft survey meticulously raking into account all the prevailing circumstances, following the UN CODE OF UNIFORM STARDARDS AND PROCEDURES. We incorporate at the final report, every aspect and difficulty which has been encountered in order to convey all aspects of the survey.
While draft surveys may be carried out by Panama Ship Service professional surveyors, the ship's Chief Officer should also perform a draft survey to the same degree of accuracy.
Our goal is to continue with a high standard process to be trusted by our clients.