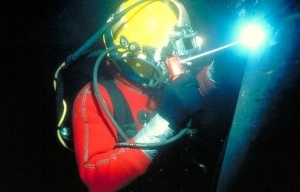 Panama Ship Service will help you find the best solution for any underwater cutting and welding service your ship needs at the Panama Canal. We will immediately mobilize our diver and technician specialist to locations in both the Port of Cristobal Colon on the Caribbean entry to the Panama Canal as well as the Port of Balboa on the Pacific entry to the Panama Canal to carry out necessary repair work without the need to drydock.
Panama Ship Service can perform dry underwater works welding when high quality welds are required because of the increased control conditions which can be expected. Our Cutting and Welding underwater works services includes Wet welds temporary and permanent repairs and installations.
We at Panama Ship Service are dedicated to the underwater works industry and follow all of the internationals standards of the Shipping Business (A.B.S., Class NK, and Lloyd´s).